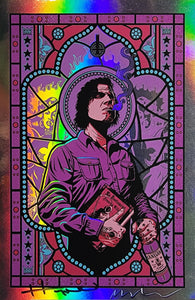 After my signing of the 'Night Porter' print with Lanegan in London at the Flood Gallery in November of 2013 I came back home to the states and released the US Edition with this color scheme. The UK edition was a blue and orange color scheme. I unearthed a handful of these original handbills from the US edition in my archives and will have a few up for sale. This is the foil variant and they are signed by both Mark and I.

Size: 6" x 9" on 100 lb holographic foil paper.

Type: 7 color limited screen print.
Signed by Justin Hampton & Mark Lanegan

On sale Tuesday, Jan 17th at 12 noon PST.