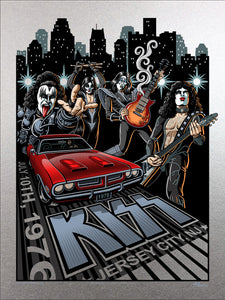 PRODUCT INFORMATION:

Title: KISS July 10, 1976 Jersey City
Medium: 10 color Screen Print
Edition: 75
Authenticity: Hand Signed/ Numbered and Embossed
Size: 18" x 24"  / 45.72cm x 60.96cm
Material: 100 lb Silver Metallic Flaked Stardream paper  
Printer: Lady Lazarus

BEHIND THE POSTER:
"When I was approached to create an official commemorative poster for KISS, I knew exactly what I would create. To me the song that encapsulates the band is one of their most classic and recognizable in their catalog- Detroit Rock City from the album; Destroyer.  It made sense to create a gig poster for a date on that tour in 1976. The heart of the poster is a hot rod racing at you in forced perspective that was inspired directly from the lyrics of the song. I depicted the band in their full regalia of that tour down to the last detail. In the background you can see a combination of stage lights overlapping the Detroit skyline. The text is incorporated into the design to create a sense of depth and urgency. The poster has metallic silver ink to reflect the bands iconic color scheme. You can feel the surge of horsepower forcing you back in the seat with the song blasting loudly as you fly down the street on the way to the show but be warned to keep an eye on the road!"  
- Justin Hampton