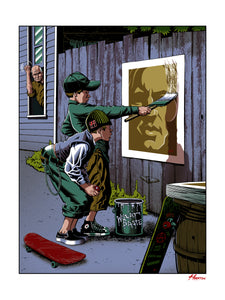 I've pulled a handful of copies of my 2018 'Wheat Paste Post Haste' art print out from my archives for sale for a limited time only.   Here's the original sale info...
After a decade of creating my 2010 Pearl Jam Hartford poster, I decided to go back into re-imagine this classic poster.  Under the pressure of a deadline for a rock poster, sometimes the art isn't given all of the love that it might have had were there more time to nuance things more.  In 2018 I went back into the original file and 'remastered' this image to subtly add new detail throughout the art and add more colors to the print.

For the original rock poster I was asked by Pearl Jam's management to make the theme of this poster geographic so I based it on Mark Twain's 'The Adventures of Tom Sawyer and Huckleberry Finn' as Mr Twain lived in Hartford, CT when he wrote it.  The image is an homage to a famous painting by Norman Rockwell published in the 1936 version of the book.  In this scene Tom Sawyer was tricking another kid to take over the job of white washing the fence that he was tasked to paint by his aunt.  I gave it a modern twist with two skater kids wheat pasting the fence with a Pearl Jam poster, creating a poster within a poster.  In this new version the rascals have a new poster to wheat paste (my 2005 art print- 'Visage' of Eddie Vedder). 

This is the 'Moonlight' variant color way.  A 9 color screen print with metallic gold ink and are signed, numbered, and hand-embossed with my JH logo. The print measures 18"x 24".