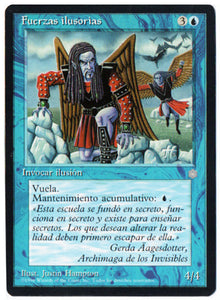 This is a card that I created for the 1996
'Ice Age'
expansion for
'Magic the Gathering'
card game for Wizards of the Coast early in my career. I've never offered these for sale online ever. I've had these cards for 25 years in a box unopened. I guess it's high time to let some out into the world.
This card,
'Illusionary Forces'
, is available in Spanish, French, Italian and Portuguese languages. 
I have no copies left in English.
Each card measures 2.5" x 3.5". 
This is an Artist Proof and has a white back to the card. Each copy will be hand signed.
I'm not currently accepting commissions for sketches, drawings or paintings on the backs at the time so please DO NOT ASK.
I'm currently overbooked for commissions and I'm about to launch a big retrospective book of my poster art so I don't have any time free at the moment. I can sell these signed cards though. Thanks!