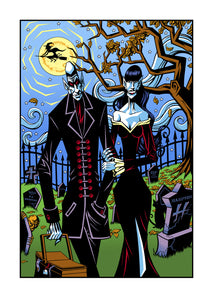 In the spirit of the month of Halloween I've pulled a handful of my 'Moonlight Picnic' Halloween art print out of the archives to offer a few for sale.  Act quickly before these are gone!
On sale NOW!
Limited Edition: An edition of 100 (only a couple left)
Size: 21.5"x 30"
Type:  An Eight Color Screen Print on white Cougar 100 lb paper stock
Markings: Signed & Numbered by Justin Hampton & JH Logo Embossed
Description: My 2007 'Moonlight Picnic' art print. This artwork was originally a 1997 Halloween cover for the weekly tabloid in Seattle called The Stranger.  I liked the art so much that I released it as a print ten years later!