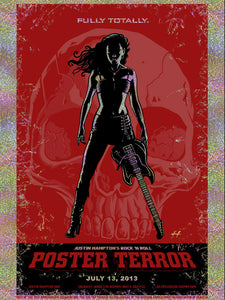 Limited Edition: 30
Size: 16.5x24
Holographic Sparkle Foil
Signed & Numbered By Justin Hampton - JH Logo Embossed
The print for my poster art showing at Calamity Jane's in Georgetown in Seattle as part of the Sub Pop Silver Jubilee 25th Anniversary Festival. This is a 3 color screen print with glow in the dark ink.
The majority of these were sold at the show so grab one of these last remaining copies before they're gone!