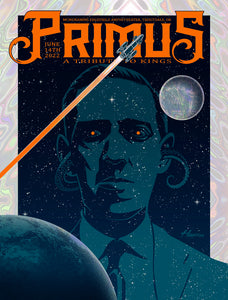 Variant poster for Primus at the Edgefield in Troutdale. In theme with their tour playing Rush's album 'A Farewell to Kings' in it's entirety, this is my H.P. Lovecraftian twist on the song: Cygnus X-1: Book One: The Voyage Prologue.
-
This is a 4 color screenprint with two split fountain ink blends printed on White Lava Foil paper measuring 18"x24".  Each copy will have a hand embellishment on the skull moon in white paint pen ink. 
Each print comes with the JH logo emboss for authenticity.
-
A signed & numbered Artist Edition of only 25 prints
-
On sale Tuesday, June 21st at 12 Noon PDT (3pm EDT)