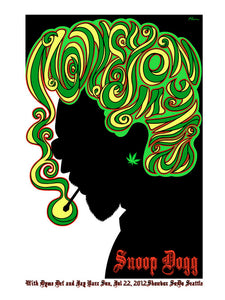 Limited Edition: 100
Size: 20″x30″
Signed & Numbered By Justin Hampton - JH Logo Embossed
A five color print in an edition of 100 copies on white 100 lb HEMP paper.
A poster for Snoop D-O Double G at the Showbox Sodo in Seattle. Note the words 'Money on my mind' in his smoke afro from his song 'Gin and Juice'. The image is a riff on the famous 1966 (Bob) DYLAN poster created by Milton Glaser.